THE MOST TOP 5 ANIME SAD STORY
THAT WILL MAKE YOU 100% CRY
FOR 2016
KYOUKAI NO KANATA (BEYOND THE BOUNDARY)
Mirai Kuriyama is the sole survivor of a clan of Spirit World warriors with the power to employ their blood as weapons. As such, Mirai is tasked with hunting down and killing "youmu"—creatures said to be the manifestation of negative human emotions. One day, while deep in thought on the school roof, Mirai comes across Akihito Kanbara, a rare half-breed of youmu in human form. In a panicked state, she plunges her blood saber into him only to realize that he's an immortal being. From then on, the two form an impromptu friendship that revolves around Mirai constantly trying to kill Akihito, in an effort to boost her own wavering confidence as a Spirit World warrior. Eventually, Akihito also manages to convince her to join the Literary Club, which houses two other powerful Spirit World warriors, Hiroomi and Mitsuki Nase.
As the group's bond strengthens, however, so does the tenacity of the youmu around them. Their misadventures will soon turn into a fight for survival as the inevitable release of the most powerful youmu, Beyond the Boundary, approaches.
ANOHANA (THE FLOWER WE SAW THAT DAY)
Jinta Yadomi is peacefully living as a recluse, spending his days away from school and playing video games at home instead. One hot summer day, his childhood friend, Meiko "Menma" Honma, appears and pesters him to grant a forgotten wish. He pays her no mind, which annoys her, but he doesn't really care. After all, Menma already died years ago.
At first, Jinta thinks that he is merely hallucinating due to the summer heat, but he is later on convinced that what he sees truly is the ghost of Menma. Jinta and his group of childhood friends grew apart after her untimely death, but they are drawn together once more as they try to lay Menma's spirit to rest. Re-living their pain and guilt, will they be able to find the strength to help not only Menma move on—but themselves as well?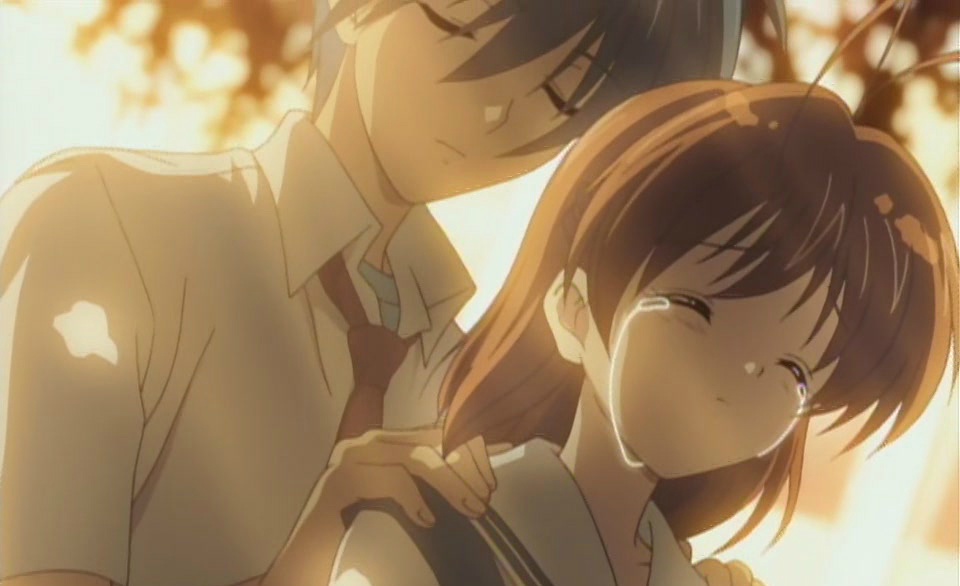 CLANNAD AFTER STORY
Clannad: After Story
, the sequel to the critically acclaimed slice-of-life series
Clannad
, begins after Tomoya Okazaki and Nagisa Furukawa graduate from high school. Together, they experience the emotional rollercoaster of growing up. Unable to decide on a course for his future, Tomoya learns the value of a strong work ethic and discovers the strength of Nagisa's support. Through the couple's dedication and unity of purpose, they push forward to confront their personal problems, deepen their old relationships, and create new bonds.
Time also moves on in the Illusionary World. As the plains grow cold with the approach of winter, the Illusionary Girl and the Garbage Doll are presented with a difficult situation that reveals the World's true purpose.
SHIGATSU WA KIMI NO USO
Music accompanies the path of the human metronome, the prodigious pianist Kousei Arima. But after the passing of his mother, Saki Arima, Kousei falls into a downward spiral, rendering him unable to hear the sound of his own piano.
Two years later, Kousei still avoids the piano, leaving behind his admirers and rivals, and lives a colorless life alongside his friends Tsubaki Sawabe and Ryouta Watari. However, everything changes when he meets a beautiful violinist, Kaori Miyazono, who stirs up his world and sets him on a journey to face music again.
NO.6
Many years ago, after the end of a bloody world war, mankind took shelter in six city-states that were peaceful and perfect... at least on the surface. However, Shion—an elite resident of the city-state No. 6—gained a new perspective on the world he lives in, thanks to a chance encounter with a mysterious boy, Nezumi. Nezumi turned out to be just one of many who lived in the desolate wasteland beyond the walls of the supposed utopia. But despite knowing that the other boy was a fugitive, Shion decided to take him in for the night and protect him, which resulted in drastic consequences: because of his actions, Shion and his mother lost their status as elites and were relocated elsewhere, and the darker side of the city began to make itself known.
Now, a long time after their life-altering first meeting, Shion and Nezumi are finally brought together once again—the former elite and the boy on the run are about to embark on an adventure that will, in time, reveal the shattering secrets of No. 6.
WATCH THIS TOP FAN ART FROZEN 2 TRAILER